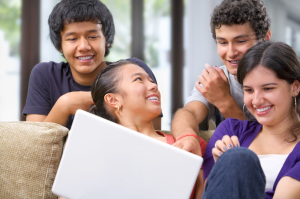 The Commons is located in the San Fernando Valley within Los Angeles County. Residents reside in a dorm-like setting, complete with an art and music studio, computer lab, fitness center, indoor basketball court and a large gymnasium.
Residents experience a nurturing environment where positive and constructive feedback is integrated into a structured daily schedule. The program encourages respect, personal and interpersonal development and fosters a sense of community and responsibility. Supported by a highly skilled, compassionate and caring clinical and behavioral staff, residents are encouraged to address their individual needs in a proactive and productive manner. Each resident has a personal advisor for additional guidance and support.
Meals are cooked fresh daily and served family style. Our chef and agency dietitian ensure that food choices are healthy and varied. Specialized diets such as gluten free, kosher, or vegetarian options are available. Residents assist in meal preparation as part of their daily living skills program.